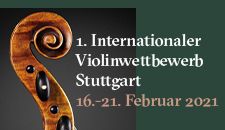 1. Stuttgart International Violin Competition
City, Country:
Stuttgart, Germany
Competition Period:
Tue 16. - Sun 21. February 2021
Application Deadline:
Fri 31 July 2020
From 16th to 21st February, in cooperation with the University of Music and Performing Arts Stuttgart and the Stuttgart Philharmonic Orchestra, the Guadagnini Fountain will host the first Stuttgart International Violin Competition.
The First Prize winner will receive 25.000 €, plus concert engagements with the Stuttgart Philharmonic, the Orchestra of the Symphoniker Hamburg and the Philharmonie Südwestfalen, as well as further recitals.
From now on you can apply by video Mail. Violinists of any nationality are welcome, applicants must be no older than 28 on the registration deadline (31st July 2020).
Check our website for further information: Competition repertoire, conditions of participation and competition terms.
Application: www.muvac.com
Facebook / Twitter:
https://www.facebook.com/International.Violin.Competition.Stuttgart